Ok...so this is my first official BLOG!
I'm new to this so please bare with me. I will warn you from the start that I write the way that I talk.
A little history...
I am a 33 year old wife and stay at home mother to 3 wonderful children. That pretty much sums up my life because they ARE my life. We have a 13 yr. old daughter, an 11 yr. old son, and a 2 yr. old little girl. And from them ages you should grasp that my life is anything but dull! :)
Today I watched Oprah and cried. Geez, the older I get the sappier I become. For those who missed Oprah, it was about a mother who forgot that her 2 yr. old child was in her car and went to work...8 hours later on a hot August day she found her dead. Ughhh…it's just horrible how this can happen! I just couldn't imagine...my emotions are filled with such sorrow & heartbreak thinking of my own children, like I'm so sure every mother watching was.  I am very shocked that there were no charges brought against the mother. If the baby had been a dog that had been left in the car she would have been charged with animal cruelty/abuse...PETA alert!
The show ends, and the news comes on only to report that 2 more children have died from being locked in a car!!

After researching and reading about this I found that according to Janette Fennell, founder and president of Kids and Cars, a national nonprofit group that advocates for child safety, roughly 36 infants and children die annually in the US from being trapped in hot cars. 24 children have died already this year.
She says the biggest mistake parents can make is thinking this cannot happen to them. "That's what these parents probably thought, too," she says. Fennell shares three ways to help prevent these deadly accidents:

1. Starting today, put a teddy bear or stuffed animal in your child's car seat. When your child is in his or her car seat, put the stuffed animal in the front passenger seat as a visual reminder your child is in the back seat.

2. Keep your lunch bag, employee badge, or purse in the back seat. That way, you'll always reach in your back seat or open your back door when you arrive to your destination.

3. Have an ironclad policy with your daycare provider that if your child does not show up, that person will call a provided list of contacts to confirm his or her whereabouts. "In so many cases, if the daycare provider would have called, tragedy could have been averted," says Fennell.

Kids and Cars is working hard to pass legislation that would require lawmakers to install weight-recognition sensors in cars that would alert parents who've left their kids in the back seat. "We won't give up until it's passed, because it would save countless lives," Ferrell concludes.
*****
My day is closing and we take our 2 yr. old to bed, she gets on her knees, puts her hands together and blesses everyone that her little heart can think of and at that moment I look over and I pray and thank god for all of my kids and the happiness that they bring to me and my husband every day.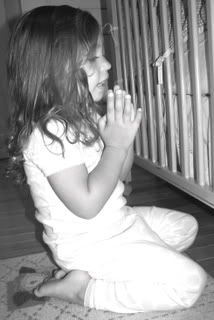 Take a moment…slow down and appreciate who and what you have.


I'm off to spend some time with my husband who I have ignored tonight because I have been on here researching and viewing other blogs.

WOW-I like this...I talk peoples head off so this might be good for me. I'm able to vent, express, and free myself from all my opinions and annoyances!